What Is Life?: Five Great Ideas in Biology (Hardcover)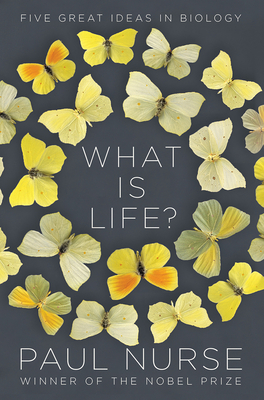 $20.00
Usually Ships in 1-5 Days
Description
---
The Nobel Prizewinning scientists elegant explanation of the fundamental ideas in biology and their uses today.
The renowned biologist Paul Nurse has spent his career revealing how living cells work. In What Is Life?, he takes up the challenge of describing what it means to be alive in a way that every reader can understand.
It is a shared journey of discovery; step-by-step Nurse illuminates five great ideas that underpin biologythe Cell, the Gene, Evolution by Natural Selection, Life as Chemistry, and Life as Information. He introduces the scientists who made the most important advances, and, using his personal experiences in and out of the lab, he shares with us the challenges, the lucky breaks, and the thrilling eureka moments of discovery.
Nurse writes with delight at lifes richness and with a sense of the urgent role of biology in our time. To survive the challenges that face us all todayclimate change, pandemic, loss of biodiversity and food securityit is vital that we all understand what life is.
About the Author
---
Sir Paul Nurse is director of the Francis Crick Institute in London. He previously served as president of Rockefeller University, president of the Royal Society, and trustee of the British Museum. He is a recipient of the 2001 Nobel Prize in Physiology or Medicine.
Praise For…
---
A nearly perfect guide to the wonder and complexity of existence.
Bill Bryson

A beautifully written exploration of perhaps the most important question in science.
Brian Cox

In this vibrant, lively book, Paul Nurse, discoverer of some of the crucial genes that control the division of cells, takes a deep dive into biology by illuminating five of the essential characteristics of life. The writing is so spirited and knowledgeableand the five sections so full of wondrous revelationsthat I could not put it down. This is a book that will inspire a generation of biologists.
Siddhartha Mukherjee

Paul Nurse is about as distinguished a scientist as there could be. He is also a great communicator. This book explains, in a way that is both clear and elegant, how the processes of life unfold, and does as much as science can to answer the question posed by the title. Its also profoundly important, at a time when the world is connected so closely that any new illness can sweep from nation to nation with immense speed, that all of usincluding politiciansshould be as well informed as possible. This book provides the sort of clarity and understanding that could save many thousands of lives.
Philip Pullman

Wise, visionary, and personal. I read the book in one sitting, and felt exhilarated by the end, as though Id run for milesfrom the author's own garden into the interior of the cell, back in time to humankinds most distant ancestors, and through the laboratory of a dedicated scientist at work on what he most loves to do.
Dava Sobel

[E]loquentAnyone wondering how life works would do well to pick this up.
Publishers Weekly