One Tin Bakes: Sweet and simple traybakes, pies, bars and buns (Hardcover)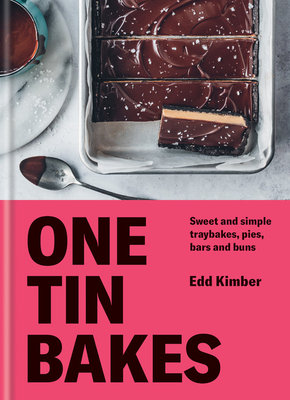 $22.99
Usually Ships in 1-5 Days
Description
---
70 delicious one-pan, no-fuss baking recipes from the first ever winner of the Great British Bake Off.

Whether you want cookies or cakes, pastries or desserts, something fruity, chocolatey, spiced or nutty, baking just got a whole lot easier.
With chapters including Cakes, Brownies & Cookies, Pastry, Desserts, No-Bake Bakes and Buns & Breads, there's plenty to choose from to create a beautiful bake, that only lacks the washing up. Try Anzac Caramel Slices for a sweet treat with a salty kick, Rhubarb Strawberry Cobbler for an easy summer dessert, or Tahini Babka Buns for those weekend pastry cravings.

You need minimal equipment and skill to whip up something fruity, chocolatey, spiced or nutty - One Tin Bakes is full of versatile and achievable recipes that celebrate the flavours of both traditional and modern bakes from around the world, each with a special Edd Kimber twist.

'Baking requires skill and perfection and Edd's got it.' - Mary Berry
'This book is a peek inside the mind of one of my favorite bakers, where creativity with butter and sugar is paired with solid technique and downright fun. Edd shares a true world of possibilities - all within a 9x13 tin. This book is an absolute must-have for every home baker.' Joy Wilson

'A brilliant idea for a book' and a 'must-have' Nigella Lawson

'Edd Kimber brings baking back into British homes' - British Vogue
About the Author
---
Edd Kimber won the first series of The Great British Bake Off in 2010. He is the author of The Boy who Bakes (2011), Say it with Cake (2012) and Patisserie Made Simple (2014) and has appeared on Market Kitchen and Perfect, as well as the BBC Good Food Show and other food shows around the country. He is a contributing editor to Bake from Scratch magazine, a go-to baking writer for Olive magazine, a baking teacher at Leith's School of Food and Wine, as well as a QVC presenter and a brand ambassador for KitchenAid. Edd has a popular blog at www.theboywhobakes.com, where he shares the recipes of his most recent baking innovations, which are always loved by his loyal social media following. @theboywhobakes
Praise For…
---
"This book is a particularly easy and appetizing path towards givingyourself a gold star in the kitchen."
Epicurious
"Kimber can't help his jazz hands: His creative dial is set to 11"
New York Times Book Review
"[T]he recipes themselves are pretty airtight. Kimber, the first winnerof "The Great British Bake Off," writes clearly, succinctly and descriptively.He also has a world full of bakers in mind when he offers ingredient amountsthree ways, in both imperial and metric weights, as well as volume. Almostevery recipe has a simply composed, enticing photo, taken by Kimber. It's justanother nod that this is a book created for the readers who get to reap, andeat, the rewards of Kimber's excellent work."
Washington Post
"Kimber's new book "One Tin Bakes: Sweet and Simple Traybakes, Pies, Bars and Buns" (KyleBooks, $22.99) sits in that sweet spot for home cooks who have littlebaking know-how (or gear) and better-than-average bakers who want to try somenew techniques to make fancy-ish desserts, like homemade Pop-Tarts or grapefruitmeringue."
Austin American Statesman
"Simple, creative, perfectly-executed desserts that require only onebaking pan"
The Smitten Kitchen