Chop Wood, Carry Water (Audio Cassette)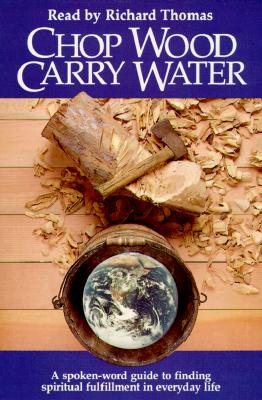 Email or call for price.
Special Order - Subject to Availability
Description
---
Every day of your life can be a spiritual adventure!

Make all the ordinary experiences of your life a part of your path to enlightenment. Whether balancing a checkbook, working in an office or factory, raising a family-- Chop Wood, Carry Water shows you how to integrate the events of modern living into a quest for spiritual fulfillment.

Based on the classic, inspirational bestseller, this unique program offers advice, insight, information, humor, and encouragement from the spiritual masters of the past and the most innovative thinkers of today. From Lao Tze to Mother Teresa, from Socrates to Margaret Mead, this audio compendium of practical wisdom shows you that the true guide to a more joyous, productive inner journey is ultimately yourself.
About the Author
---
Rick Fields is a leading expert on contemporary spirituality, and author of the classic "How the Swans Came to the Lake: A Narrative History of Buddhism in America." Peggy Taylor is co-founder of the "New Age Journal," and past president of the Association of Humanistic Psychology. Rex Weyler is active in the ecological movement and is a founder of Greenpeace. Rick Ingrasci, M.D., Ph.D., is a physician/healer, and a founding trustee of the American Holistic Medical Association.

One of America's most highly-gifted, versatile and respected actors, Richard Thomas is a veteran of 30 years in entertainment. In addition to his Emmy Award-winning portrayal of John-Boy on "The Waltons," he has also appeared in dozens of television movies, feature films and theatrical productions.