4 Steps to the Future: A Quick and Clean Guide to Creating Foresight (Paperback)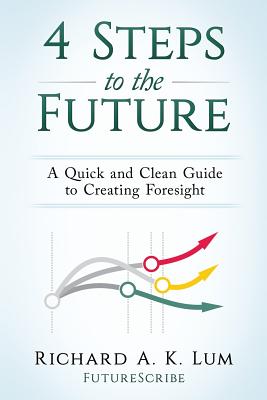 Description
---
This book by Richard Lum, an academically trained futurist, is a practical, straight-to-the-action guide for creating foresight in any organization. Written for today's attention-stressed and resource-deprived manager, 4 Steps to the Future provides an easy-to-understand process for creating insight about the future that individuals can immediately begin applying within their organization.

Drawing upon almost twenty years of developing foresight within and for organizations of all types, Lum distills some of the essentials of good futures research and lays out a four step process for developing foresight. Beginning with an analysis of the history of any industry or company, the 4 Steps process leads readers through analyzing the present, forecasting alternative scenarios, and reformulating goals and vision.

Intended for managers and executives in need of easy-to-apply tools that can be used immediately within organizations, 4 Steps to the Future is written as a guidebook. Readers who are looking for a resource that provides them the guidance and tools to conduct a foresight project themselves, or who have to lead an upcoming foresight effort, will find this book an indispensable guide.

Complete with worksheets, exercises, and checklists for daily habits, 4 Steps to the Future is an invaluable resource for every organizational leader.