The Quilt Walk (Hardcover)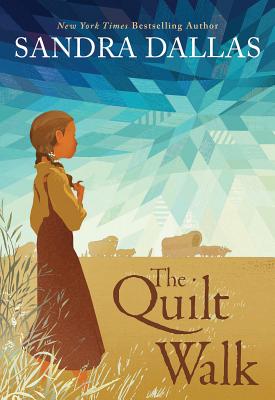 Email or call for price.
Special Order - Subject to Availability
Description
---
It's 1863 and 10-year-old Emmy Blue Hatchett has been
told by her father that, come spring, their family will
leave their farm, family, and friends in Quincy, Illinois,
and travel the Overland Trail to a new home in Golden,
Colorado. Emmy has mixed feelings about going.
"Part of me was like Pa, wanting the excitement of going
to a new place where we might be rich. But the other part
wanted to stay in Quincy with my friends and grandparents,
with everything I knew, where I would be safe."
It's difficult leaving family and friends behind. They might
not see one another ever again. When her grandmother
comes to say goodbye, she gives Emmy a special gift,
something to keep her occupied on the trip.
The journey by wagon train is long and full of hardships.
But the Hatchetts persevere and reach their destination
in Colorado, ready to start their new life.
Based on an incident in Colorado history, Sandra Dallas
crafts a spellbinding story for young readers.