The Good Ancestor: A Radical Prescription for Long-Term Thinking (Paperback)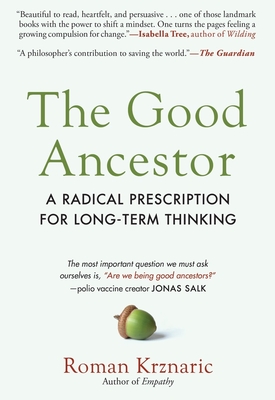 Description
---
Now in paperback—an urgent call to save ourselves and our planet that gets to the root of the current crisis: society's extreme shortsightedness

"Are we being good ancestors?" So asked Jonas Salk, who developed the polio vaccine in 1953—but refused to patent it so that more lives could be saved.

Leading philosopher Roman Krznaric believes the fate of our societies (and species) depends on our living up to Salk's exhortation to radical generosity. Krznaric asserts that our exploitative mindsets have "colonized the future"—that the mounting existential threats we've left unchecked have brought humankind to the precipice of disaster. And yet, he sees room for hope!

Yes, the urgent struggle for intergenerational justice calls for hugely ambitious solutions, but at the heart of all these changes is one we can enact within ourselves: We must trade shortsightedness for the long view. With The Good Ancestor, Krznaric inspires us to shift our allegiance from this generation to all humanity—in short, to save our planet and our future.
About the Author
---
Roman Krznaric is a public philosopher who writes about the power of ideas to change society. His books include Empathy, The Wonderbox, and Carpe Diem Regained, and have been published in more than twenty languages. He studied at the Universities of Oxford, London, and Essex, where he received his PhD. He is a founding faculty member of The School of Life and is based in the UK.
Praise For…
---
2020 Foreword INDIES Finalist

"Full of revelations for everyone who cares about the legacy they leave. This is the book our children's children will thank us for reading."—The Edge, U2

"Philosopher Roman Krznaric calmly calls for a reorientation toward the future, not to benefit us, but to benefit our far-off descendants. . . [The point is] to emphasize the agency of the present moment and the potential, however imperfect, to influence the future."—The Atlantic

"Roman Krznaric addresses the greatest challenge confronting the world: How can humanity survive this century and flourish in the next? His book deserves to be widely read—by policy makers, and indeed by all citizens who care about the prospects for their children and grandchildren."—Professor Martin Rees, Astronomer Royal and author of On The Future

"A work of genius that draws on the wisdom-traditions of cultures from across the globe."—Martin Kalungu-Banda, Ubuntu Lab and Saïd Business School, Oxford University

"The individualistic philosophies of the last century have generated huge concentrations of wealth—but at the same time put us on the road to social, political, and environmental collapse. This clear-sighted and inspiring book suggests a different view of who humans are and what they really value—and a number of ways off that lethal road. It's a must-read for anyone who's looking for the good news."—musician and composer Brian Eno

"A great antidote to the short-term thinking that comes easily to us all. If you want to be a good ancestor, start by reading this book."—Nigel Warburton, author of A Little History of Philosophy and founder of the Philosophy Bites podcast

"I judge a book's usefulness by how many pages I'm compelled to dog-ear and underline. This book on the pragmatics of long-term thinking earned 50-plus dog-ears."—Stewart Brand, creator of the Whole Earth Catalog and co-founder of The Long Now Foundation

"Krznaric's seamless and magical prose delights on every page. Let's engrave his 'six ways to think long' across the gateway to every Parliament in the world."—Professor Tim Jackson, author of Prosperity Without Growth

"Roman Krznaric passionately argues that thinking long term would bring untold benefits and may very well be vital to our survival as a species. Lose yourself in these pages, expand your time horizons, and reimagine your relationship to time, to the future, to activism."—Rob Hopkins, founder of the Transition Town movement and author of From What Is to What If

"A fascinating and inspiring exploration of one of the great relationship questions of the 21st century: How can we extend our circle of care to future generations?"—John Gray, New York Times–bestselling author of Men Are From Mars, Women Are From Venus

"Krznaric asks the defining moral question for our age: How will future generations look back on our legacy? A superb intellectual history and razor-sharp analysis of contemporary politics, this book will change how you think about the worldand is a call to action. Read it. You owe it to your children's children."—Kevin Watkins, Chief Executive, Save the Children

"How timely can a book be? Roman Krznaric fizzes with ideas about how we tackle that cuckoo in the nest, short-term thinking. We need to think today for tomorrow, to give future generations their rightful seat at the table."—Lord John Bird MBE, founder of The Big Issue

"An important and fascinating book that asks whether we've got what it takes to become citizens rather than consumers and create an ecological civilization. The Good Ancestor is a triumph."—Sir Tim Smit, co-founder of the Eden Project

"From the seventh-generation thinking of Native American tribes to legally empowered guardians of the future and citizens' assemblies, Krznaric explores a wealth of ways we can become good ancestors. For anyone who is interested in how we can get today's society to leave the world better than they found it—this is your guide."—Sophie Howe, Future Generations Commissioner for Wales

"In this persuasive book, one of our leading thinkers, Roman Krznaric, expands his ground-breaking work on empathy to argue that our only hope of survival is to develop deep empathy for future generations across time and space."—Professor Morten Kringelbach, neuroscientist, Universities of Oxford and Aarhus, Denmark