Dead Broke in Jarrett Creek: A Samuel Craddock Mystery (Samuel Craddock Mysteries) (Paperback)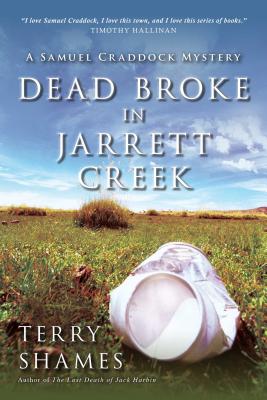 Other Books in Series
This is book number 3 in the Samuel Craddock Mysteries series.
Description
---
The small town of Jarrett Creek is bankrupt. Samuel Craddock thought he was retired but now he's been asked to return as police chief. Gary Dellmore, heir apparent to the main bank, is dead, apparently murdered. Dellmore supposedly had a roving eye, although his wife says he was never serious about dallying. Still, Craddock wonders: Did the husbands and fathers of women he flirted with think he was harmless? What about his current lover, who insists that Dellmore was going to leave his wife for her? Craddock discovers that Dellmore had a record of bad business investments. Even worse, he took a kickback from a loan he procured, which ultimately drove the town into bankruptcy. Many people had motive to want Dellmore dead. Then the investigation turns up another crime. As Craddock digs down to the root of this mess, many in Jarrett Creek are left wondering what happened to the innocence of their close-knit community.
About the Author
---
Terry Shames is the Macavity Award-winning author of the Samuel Craddock mysteries A Killing at Cotton Hill, The Last Death of Jack Harbin, Dead Broke in Jarrett Creek, and A Deadly Affair at Bobtail Ridge. She is also the coeditor of Fire in the Hills, a book of stories, poems, and photographs about the 1991 Oakland Hills Fire. She grew up in Texas and continues to be fascinated by the convoluted loyalties and betrayals of the small town where her grandfather was the mayor. Terry is a member of the Mystery Writers of America and Sisters in Crime.
Praise For…
---
"There may be no protagonist in our genre today as decently compelling as Samuel Craddock. And there may be no better chronicler of the character and complexity of small-town America than Terry Shames. With Dead Broke in Jarrett Creek, she absolutely won my heart. Give her a chance, and I guarantee she'll stake a claim to yours as well."
—WILLIAM KENT KRUEGER, author of Tamarack County and Windigo Island

"After a debut as strong as A Killing at Cotton Hill, it's hard to believe that Terry Shames could get better with each succeeding book, but in Dead Broke in Jarrett Creek, she does exactly that. I love Samuel Craddock, I love this town, and I love this series of books."
—TIMOTHY HALLINAN, author of Herbie's Game and For the Dead
 
"Small towns in mysteries can be too cute or too weird to be true, but Jarrett Creek is the real deal and Samuel Craddock is the jewel in its crown. Flawed, complex, decent, and captivating—spending time in this town with the Chief is a delight. And what a terrific story, too."
—CATRIONA MCPHERSON, author of As She Left It and the Dandy Gilver Mysteries

"Samuel Craddock's back and better than ever…. All of the really good aspects of the long-lasting series are present: a patient, long-suffering, decent, thoughtful, and intelligent protagonist; a small town filled with the usual variety of small town characters… real mysteries, pretty much uncontrived, that need strong investigation by someone who doesn't jump to conclusions; and a setting in the Waco area that twangs oh so true."
—REVIEWING THE EVIDENCE         

Praise for prior Samuel Craddock mysteries:

A KILLING AT COTTON HILL - WINNER! 2014 Macavity Award for Best First Mystery

"The lead's folksy tone belies astute detecting, and the plotting will dazzle readers." -Library Journal STARRED REVIEW

"A gritty take on small-town crime." -Booklist

"An amazing read. The poetic, literary quality of the writing draws you into a small town and its interesting, secret-carrying residents." -RT Book Reviews

"Shames has come up with a sleuth for the long haul." -Toronto Star 

"Following up on her stellar debut, Shames proves that she isn't a one-hit wonder. . . . [Her] grizzled, world-weary Craddock is a nuanced and artfully drawn character who embodies the positive values of small-town Texas as he gets deeper into a multilayered story of trust and betrayal. Jarrett Creek is much more than a backdrop--it's a complex character in the story. Samuel Craddock is a hero worth rooting for. . . . Highly recommended."  

--Sheldon Siegel, New York Times-bestselling author 

"Terry Shames does small-town Texas crime right, and A Killing at Cotton Hill is the real thing. It has humor, insight, and fine characters. Former chief of police Samuel Craddock is a man readers are going to love, and they'll want to visit him and Jarrett Creek, Texas, often." 

--Bill Crider, author of Compound Murder, A Dan Rhodes Mystery