Elderhood: Redefining Aging, Transforming Medicine, Reimagining Life (Paperback)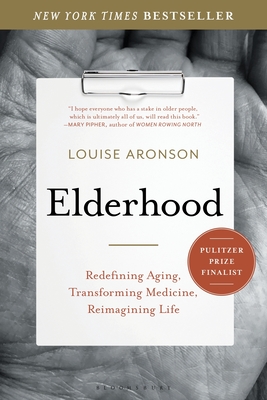 $18.00
Coming Soon - Available for Pre-Order Now
Description
---
Finalist for the Pulitzer Prize in General Nonfiction
Longlisted for the Andrew Carnegie Medal for Excellence in Nonfiction
Winner of the WSU AOS Bonner Book Award

The New York Times bestseller from physician and award-winning writer Louise Aronson--an essential, empathetic look at a vital but often disparaged stage of life, as revelatory as Atul Gawande's Being Mortal.

For more than 5,000 years, "old" has been defined as beginning between the ages of 60 and 70. That means most people alive today will spend more years in elderhood than in childhood, and many will be elders for 40 years or more. Yet at the very moment that humans are living longer than ever before, we've made old age into a disease, a condition to be dreaded, denigrated, neglected, and denied.

Reminiscent of Oliver Sacks, noted Harvard-trained geriatrician Louise Aronson uses stories from her quarter century of caring for patients, and draws from history, science, literature, popular culture, and her own life to weave a vision of old age that's neither nightmare nor utopian fantasy--a vision full of joy, wonder, frustration, outrage, and hope about aging, medicine, and humanity itself.

Elderhood is for anyone who is, in the author's own words, "an aging, i.e., still-breathing human being."
About the Author
---
Louise Aronson, MD, is the author of A History of the Present Illness, and a geriatrician, educator, and professor of medicine at the University of California, San Francisco (UCSF), where she directs UCSF Health Humanities. A graduate of Harvard Medical and the MFA Program for Writers at Warren Wilson College, Dr. Aronson has received the Gold Professorship in Humanism, the California Homecare Physician of the Year Award, and the American Geriatrics Society Clinician-Teacher of the Year Award, as well as numerous awards for her teaching, research, and writing. The recipient of a MacDowell fellowship and four Pushcart nominations, her articles and stories have appeared in many publications, including the New York Times, New England Journal of Medicine, Lancet, and Bellevue Literary Review. She lives in San Francisco.
Praise For…
---
"Exquisitely written . . . [Aronson] advocates a new paradigm: a re-balancing act in which technology has a role but the focus returns to care. Unlike the high-tech, algorithmic march of modern medicine, her idea of truly 'personalized medicine' incorporates the patient's past experiences and current expectations. This integrative, humanistic model of geriatrics is rare. One can only hope its practices are adopted swiftly." —Nature

"Wise and engaging." —AARP Magazine

"Bracing, always compassionate." —Wall Street Journal, Best Books About Retirement and Aging of 2019

"A passionate, deeply informed critique of how our healthcare system fails in its treatment of the elderly . . . Vitally important . . . Though the subject of this provocative book is the elderly, its message touches the entire span of human life." —BookPage

"Eloquent and impressive . . . A landmark work . . . In a world of increasing numbers of older adults, Aronson's highly readable, absorbing, and thought-provoking book should serve as a guide for how our culture must change in order to provide a future in which all of us can age well throughout the span of our lives." —Changing Aging

"[A] penetrating meditation on geriatrics . . . Aronson's deep empathy, hard-won knowledge, and vivid reportage makes for one of the best accounts around of the medical mistreatment of the old." —Publishers Weekly, starred review

"An examination of aging and the human condition encompassing poignant stories and the viewpoints of medical experts, writers, historians, and scientists . . . Empathetic, probing, and often emotionally moving narratives on appreciating the power and the pain of aging." —Kirkus, starred review

"A bold critique of our anti-aging society and of the medical care seniors receive. . . This book, part memoir, part critique and part prescription, encourages readers to help put an end to the anti-aging industry and its profiteers, to engage in better self-care and to collectively ask the medical community to look at elderhood not as a disease." —The Missourian

"[A] vast and penetrating analysis…With strong empathy that comes from both a professional understanding of and personal experience with the challenges of aging, Aronson provides an essential guide to how society in general and the health-care industry in particular must recalibrate their approach to providing concerned and competent elder care. Thought provoking and wise, Aronson's memoir-cum-treatise should be required reading for medical professionals and will be of great use for seniors and those who support them." —Booklist, starred review

"Monumental . . . Elderhood, like the life station it studies, is dynamic, multifaceted and full of wonder. Aronson's writing, too, flexes with vibrant energy as she discusses in lucid, candid detail the ways she has seen the healthcare system neglect the overall well-being of her patients, her colleagues and herself . . . Intimidating as it may seem, elderhood becomes welcoming and generous in Aronson's deft care." —Shelf Awareness, starred review

"An in-depth, unusually frank exploration of biases that distort society's view of old age and that shape dysfunctional health policies and medical practices." —Kaiser Health News

"Aronson's Elderhood is dazzling, rich with knowledge gleaned from her professional work as a geriatrician, her personal experience as a daughter, her common sense, and her thorough analysis of our social supports and cultural messaging. Her arguments are powerful, and her conclusions are revolutionary. I hope everyone who has a stake in older people, which is ultimately all of us, will read this book." —Mary Pipher, author of WOMEN ROWING NORTH

"In the latter years there are possibilities for joy, transcendence, and meaning, but also for just the opposite. Aronson writes like a memoirist while giving us scientific insight, philosophical wisdom, and wise counsel for a journey and destination we all share. Elderhood is a lovely and thoughtful exploration of this voyage." —Abraham Verghese, author of CUTTING FOR STONE

"In Elderhood, the physician-writer Louise Aronson provides an honest and humane analysis of what it means to grow old in America. Her book--part memoir, history, and social critique--is deeply sympathetic to elders and sharply critical of the "anti-aging industry" that has tried to turn being elderly into some sort of disease. I highly recommend this wonderful book to anyone who plans on growing old in this country." —Sandeep Jauhar, author of HEART: A HISTORY

"As Louise Aronson says, 'Life offers just two possibilities: die young or grow old.' This searing, luminous book is for everyone who hopes to accomplish the latter and remain fully human as they do. It will challenge your assumptions and open your mind--and it just might change your life." —Lucy Kalanithi, MD, editor of WHEN BREATH BECOMES AIR

"In Elderhood, Louise Aronson draws on the experiences of her own life and the many lives she has touched as a geriatrician to think about age and aging, combining the insights of science and medicine with the wisdom of literature and human history, all narrated with the practical realism of the caring clinician. It's a wise and beautiful book, to be cherished by anyone who hopes to keep on growing, aging, and learning." —Perri Klass, MD

"The book that every one of us has been or will be looking for--a passionate, illuminating, brilliant, and beautifully written meditation on aging and caring for elders, Elderhood is a godsend." —Pauline Chen, MD, author of FINAL EXAM

"A book that needs to be consulted by every care giver and health professional for the wisdom it contains." —Sun News Tucson

"An intimate look into how the aging process affects real lives and a non-didactic take on the importance of health care." —San Francisco Chronicle on A HISTORY OF THE PRESENT ILLNESS

"Dr. Aronson writes lovely, nuanced description." —The New York Times on A HISTORY OF THE PRESENT ILLNESS

"The ethical dilemmas that abound in medicine are prominent but never swamp the stories: these are tales about people, as insightfulas Lorrie Moore or Alice Munro." —The Independent on A HISTORY OF THE PRESENT ILLNESS

"A fascinating study of our fragile human condition, both physical and emotional. Here is a writer-and a doctor-whose empathy . . . springs forth on every page." —Peter Orner on A HISTORY OF THE PRESENT ILLNESS

"If you've ever wondered what goes on behind the closed doors of the sick and the wounded--not on television or in movies but really--then this is the book for you. Compassionate and even anguished . . . It it has the palette and the ring of truth." —Victoria Sweet, author of GOD'S HOTEL, on A HISTORY OF THE PRESENT ILLNESS

"Invites us to bear witness as people--with very little fanfare, but with a profound sense of truth--to come to terms with what it really means to be a flawed, sick human being in a flawed, sick world." —Chris Adrian, M.D., author of THE CHILDREN'S HOSPITAL on A HISTORY OF THE PRESENT ILLNESS

"A History of the Present Illness is a collection of stories about doctors and their patients, and about the chronic and presenting situations that bring them to crisis. Eudora Welty described the work of another physician/story writer by saying that 'Chekhov's candor was exploratory and painstaking -- he might have used it as the doctor in him would know how, treating the need for truth between human beings as an emergency,' words that seem to me to also apply here. Aronson's quest, too, is for that truth." —Antonya Nelson, author of BOUND, on A HISTORY OF THE PRESENT ILLNESS

"Aronson's examination of medical culture in stories, of the brutality and tenderness at home and hospital, is a gem. [Her] voice is tender and one from which I hope we'll hear more histories in the future." —Washington Independent Review of Books on A HISTORY OF THE PRESENT ILLNESS

"Aronson effectively illustrates just how jumbled life can be. Hope is limping barely one step ahead of sadness. Human devotion and division, responsibility to self and others are only a smidgen of the subject matter examined by talented and knowledgeable Aronson." —Booklist on A HISTORY OF THE PRESENT ILLNESS