God Is Just Love: Building Spiritual Resilience and Sustainable Communities for the Sake of Our Children and Creation (Paperback)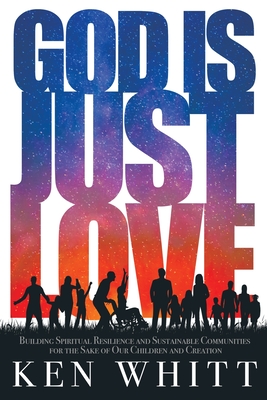 $19.99
Usually Ships in 1-5 Days
Description
---
How can people of faith foster love and resilience in our children while building sustainable, diverse communities? That's the big question Ken Whitt answers in light of the many threats looming in our world. Through wisdom he has gleaned from scientists, scholars and lots of real families, Ken shows how God's love is a hopeful compass in our lives. He encourages enjoying stories, songs and explorations of the natural world with children, and closes with "100 Things Families Can Do To Find Hope and Be Love."
Because Ken has years of experience working with multi-generational groups, his book encourages reflections and activities with our families that he knows will be both fun and faithful. The cover of his book illustrates a central story he shares about the wonderment families discover when they look up into the starry night sky with their children.
"Ken Whitt offers care to weary souls in this book. It is not just his words but the spirit that manifests through the words. Ken says that love is at the heart of reality and love is what he gently breathes on us here," Christian ethicist David Gushee, author of Changing Our Mind, writes in the book's Foreword.
"As you read this wise and joyful book, I know you will feel both instructed and delighted, and you will agree that your life has been enriched by adopting Ken Whitt as a literary pastor, mentor and friend," Brian McLaren, best-selling author of more than 20 books, writes in the Preface.
"In extensive dialog with scientists and theologians, Ken shows the delightful and enriching complementarity of faith and science. Both can feed us mentally and emotionally, and both are needed to move us in constructive and creative ways in the face of the global perils we face," writes Daniel Buttry, author of Blessed Are the Peacemakers and the former Global Consultant for Peace and Justice of the American Baptist Churches.