Not Necessarily Rocket Science: A Beginner's Guide to Life in the Space Age (Women in Science, Aerospace Industry, Mars) (Hardcover)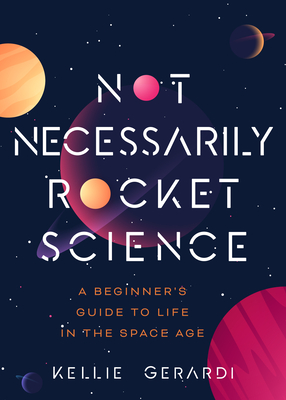 $19.95
Usually Ships in 1-5 Days
Description
---
A Beginner's Guide to Life in the Space Age
"Kellie is probably one of the best ambassadors for spaceflight in the 21st century that the industry could have." Lucy Hawking, author of George's Secret Key to the Universe and host of Audible's Lucy in the Sky.
#1 New Release in Science & Math, Essays & Commentary, Mars, and Astronautics & Space Flight
Follow aerospace science professional Kellie Gerardi's non-traditional path in the space industry as she guides and encourages anyone who has ever dreamed about stars, the solar system, and the galaxies in space.
Ever wondered what it's like to work in outer space? In this candid science memoir and career guide, Gerardi offers an inside look into the industry beginning to eclipse Silicon Valley. Whether you have a space science degree or are looking to learn about stars, Not Necessarily Rocket Science proves there's room for anyone who is passionate about exploration.
What it's like to be a woman in space. With a space background and a mission to democratize access to space, this female astronaut candidate offers a front row seat to the final frontier. From her adventures training for Mars to testing spacesuits in microgravity, this unique handbook provides inspiration and guidance for aspiring astronauts everywhere. Look inside for answers to questions like:
Will there be beer on Mars?
Why do I need to do one-handed pushups in microgravity?
How can I possibly lose a fortune in outer space?
If you're looking for women in science gifts, astronomy books for adults, or NASA storiesor enjoyed, the Galaxy Girls book, or Letters from an Astrophysicist by Neil deGrasse Tysonthen you'll love Not Necessarily Rocket Science.