The Root of Chinese Qigong: Secrets of Health, Longevity, & Enlightenment (Paperback)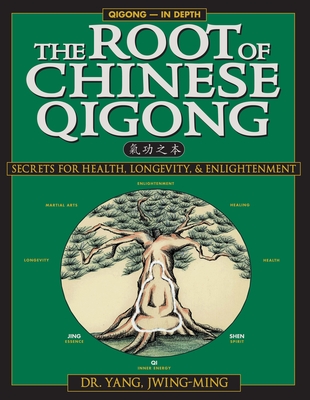 $29.95
Usually Ships in 1-5 Days
Description
---
The Root of Chinese Qigong: Secrets for Health, Longevity, and Enlightenment is the absolutely best book for revealing the what, the why, and the how of qigong.
When you know what qigong is, tht will help you make the right decision; is qigong going to be a good choice for me?
When you know why qigong is so effective, that will help you set realistic goals for your use of qigong in your health or martial arts training.
When you know how qigong should be practiced, that will absolutely help you to attain your health or martial arts goals in an efficient and timely manner.
We strongly recommend this book for everyone who wants to study qigong, tai chi, or marital arts.
Qigong training can improve your health, strengthen you immune system, cure illness, and help you overcome the stress of daily living. Qigong is the study of Qi, or vital energy, that circulates in the human body, and it has been practiced by the Chinese for thousands of years. Qigong is a unique and comprehensive approach to health and longevity, and can be trained by anyone. Get the most from your practice by understanding the principles and foundation of this energy science.
Dr. Yang teaches sitting and standing meditation, demonstrates massage techniques, and explores the Qi pathways in your body. He explains correct breathing methods, shares secrets for quieting the mind, and discusses how to increase your body's Qi supply. In addition, he also explains important concepts such as the Three Treasures and regulating the body, breath, and mind. Whatever style you practice, you'll find the keys to successful training in the Root of Chinese Qigong.
Improve your health with Qi (vital energy) training.
Relieve stress with simple breathing techniques.
Learn the secrets that will advance your practice.
Discover the foundations of Chinese medicine.
Eliminate tension with soothing relaxation exercises.
Includes more than sixty detailed photos and illustrations.
About the Author
---
Dr. Yang, Jwing-Ming is a renowned author and teacher of Chinese martial arts and Qigong. Born in Taiwan, he has trained and taught Taijiquan, Qigong and Chinese martial arts for over forty-five years. He is the author of over thirty books, and was elected by Inside Kung Fu magazine as one of the 10 people who has "made the greatest impact on martial arts in the past 100 years." Dr. Yang lives in Northern California.